Personal advice
Would you like advice or inspiration? Then please contact one of our advisers without obligation.
Contact us
Relaxing sensory room
The next snoezel room is a relaxing room. The client wanted to combine activation and relaxing in one room. Snoezelen is not for nothing a combination of the words Snuffelen (discover) and doezelen (relaxing).
Quiet colours have been used, whereby the chosen colour (white) immediately gives a serene tranquility and ensures that all colours of the various sensory products from the Nenko Interactive program stand out well. A high water bed with wall mats and all-round edges provides a bit of relaxing and safety. Adjacent to the waterbed, a coated base is placed with a LED globe integrated, which can be used passively or actively. The globe reacts to sound and touch and has various programs so that you can turn this into a real activity with multisensory sessions with a client. In addition, the light bulb also reacts to the switch panel, just like all other Nenko Interactive materials in the room. If a client presses the red button on the switch panel, the LED lights, bubble unit, LED globe, starry sky and so on change to the red color.
A starry sky is placed above the waterbed. Between the corner of the waterbed and the corner of the relax chairs you will find the projection that is aimed at a large white wall for projecting images. In the middle of the room is a bean bag island, from which you can also enjoy the projection very nicely. The bean bag island also gives a different sitting / lying experience than the other materials used in the room (water bed, bed box and chairs) due to the filling that is in it. The corner of the window there is also a coated base, with mirrors behind it so that you enhance the effect of the bubble unit in the base. You see four bubble units instead of one. A UV wall aquarium is placed on the wall by the door. This is a decorative element with a UV light source incorporated, making the aquarium light up.
More inspiration?
Is your eye focussed on a specific product or part of the space? Then view the #tags below and discover more realized spaces with similar products or styles!
Products used
In this project we used the following articles:
Atmosphere impression
Check out these atmospheric images to get an even better picture of the realized space.
Interesting for you? Have a look at these other projects.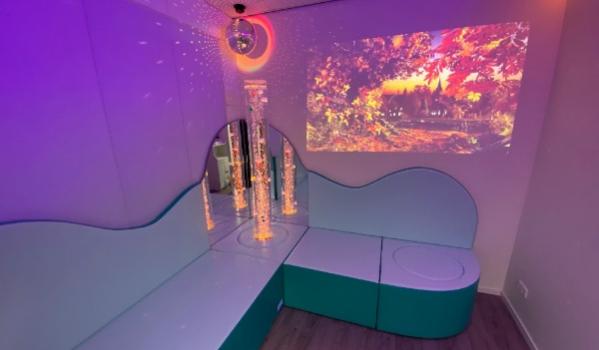 Interactive Nenko Sense System room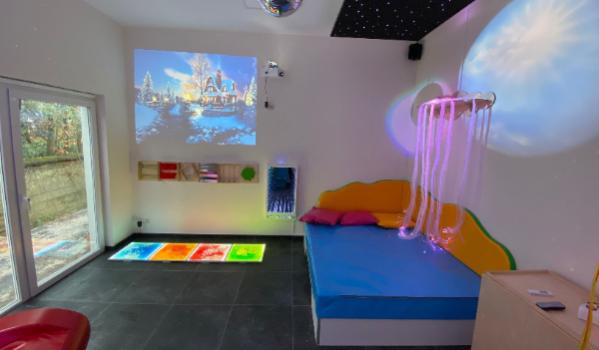 Interactive Sensory room